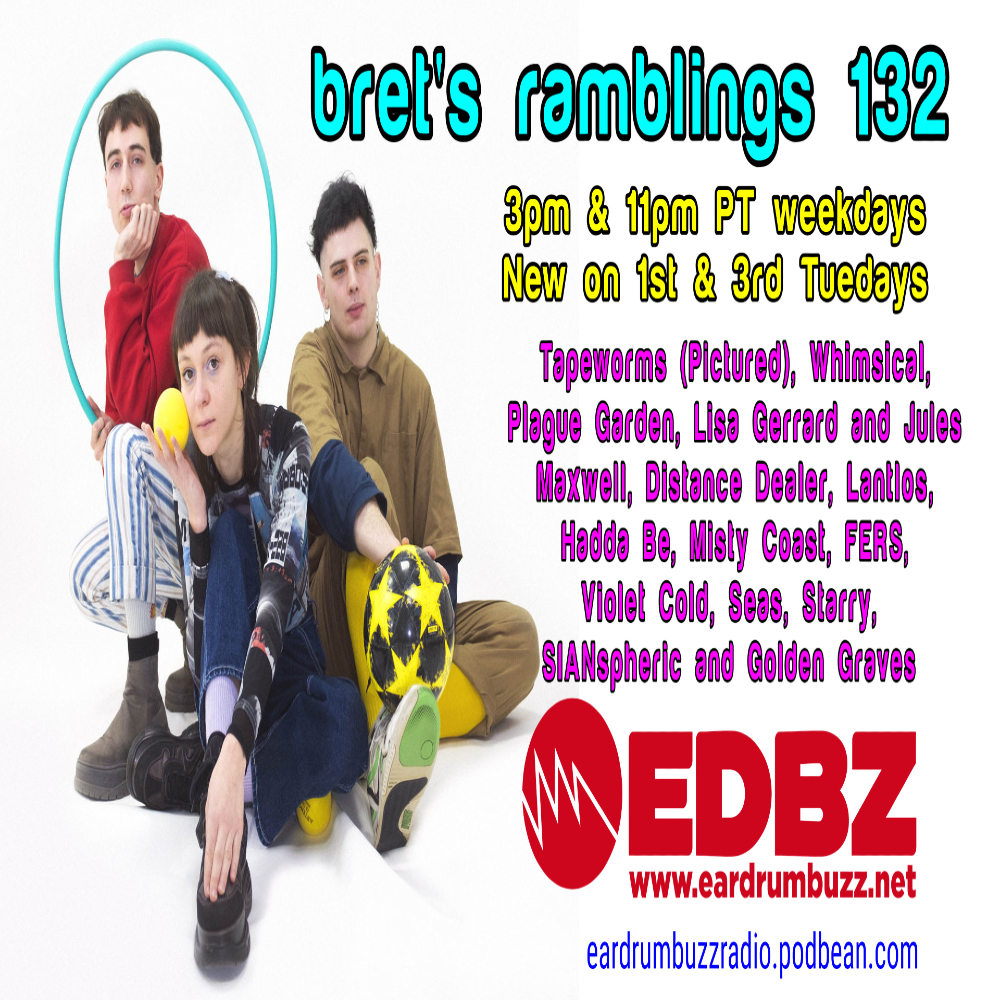 From upbeat pop to guitar-heavy catharsis, It's a new Bret's Ramblings!
Originally heard weekdays on Eardrumbuzz.net 3pm & 11pm PT, new on the First and Third Tuesdays.
SETLIST:
(Song, Artist, Album)
Magic Pierrot, Tapeworms, Single
In a Million Years, Misty Coast, When I Fall From The Sky
Gravity, Whimsical, Single
Catch It On A Fall, Hadda Be, Another Life
Wait, FERS, Shallow EP
Aldavyeem (A Time To Dance), Lisa Gerrard and Jules Maxwell, Burn
SENTIENCE at la salla rossa in montreal in 2002, SIANspheric, THANKS. WE'RE SIANSPHERIC. WE'VE GOT MERCH AT THE BACK.
Skull / Tone / Skull, Seas, Starry, Anatomy EP
Dead On The Floor, Plague Garden, Requiem Of Souls
Hit By A Brick, Distance Dealer, Slasher b/w Hit By A Brick (Digital Single)
Whoad, Golden Graves, Be Safe
We Met During The Revolution, Violet Cold, Empire Of Love
Lake Fantasy, Lantlos, Wildhund
EXTENDED PLAYS:
In the Garden, Ronnie & Clyde, Single
Heavenly Bodies, Death Bells, Live From Bombay
John Barry's Space March, Donner, Single (From the movie You Only Live Twice)
3A.M. Thoughts, City of Dawn & The Corrupting Sea, Mosaic of Senses
Toi 1338b (Edit), Sedibus, The Heavens EP (Alex Patterson of The Orb)
Beaming, Vinyl Williams, Single
Dream Within a Dreamworld, The Daysleepers, Dream Within a Dreamworld (Single)
Clementine, Dream Suicides, Single
Travel Through Time, Daydream Cathedral, Single
Después del Silencio, MOONTAUK, Mileto
Bo-Bots, Meat Beat Manifesto, BLE-EP