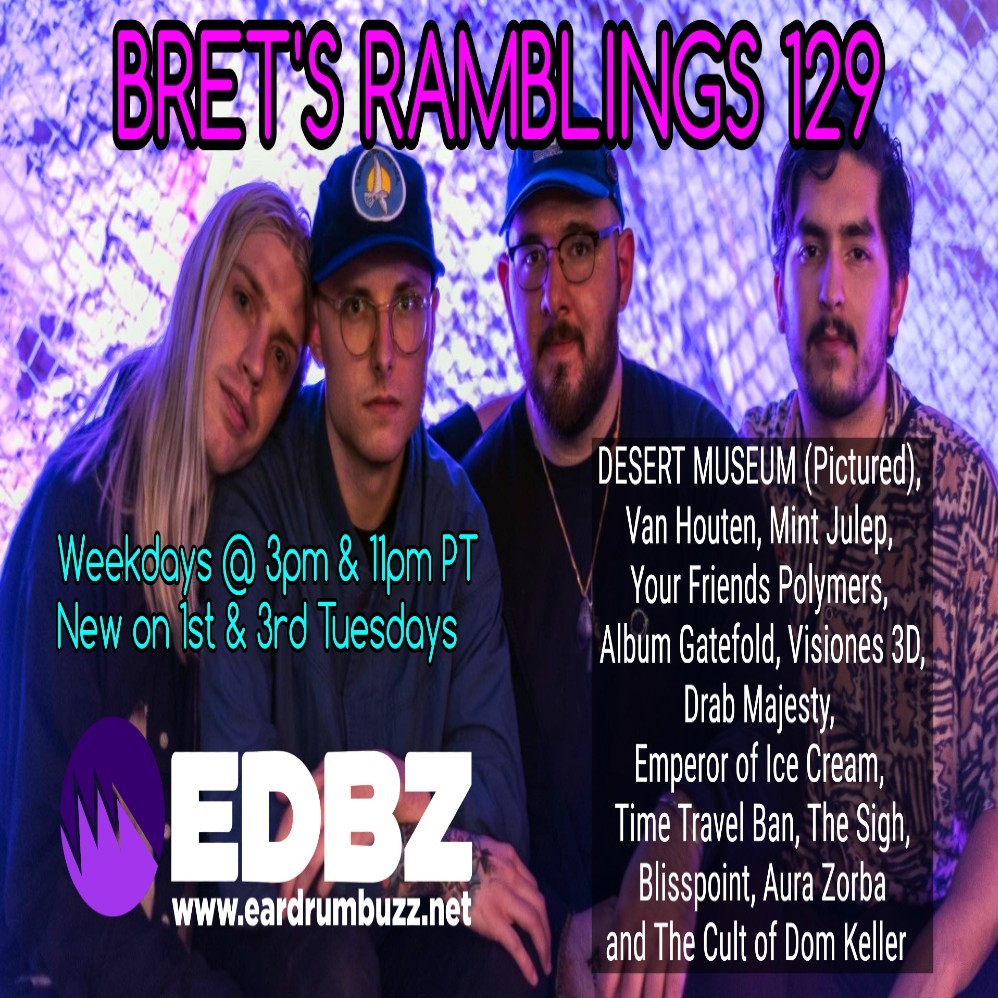 Originally heard on Eardrum Buzz Radio (www.eardrumbuzz.net)
New on the first and third Tuesdays and repeated weekdays 3pm & 11pm PT.
Independent bands from all over the world, spanning many genres.
Only on Podbean will you hear Extended Plays: the songs played in the background during the breaks as well as the songs that didn't make the one hour cut.
With:
(Song, Artist, Album)
What I Need (Live), Van Houten, Live at Eiger Studios
Mint Julep, Westerley, In A Deep and Dreamless Sleep
A Garden In Your Eyes, The Sigh, Winsomeness
Chudesa (Miracle), Your Friends Polymers, Chudesa
Taipei, The Album Gatefold, The Taiwan Demos
Pantallas, Visiones 3D
No Rain (Blind Melon Cover), Drab Majesty
Bleachmouse, Blisspoint, Blisspoint EP
Blackberry, Desert Museum, Familiar Gaze
Apolojesus, Time Travel Ban, Smoke & Mirrors
Puerile, Emperor of Ice Cream, William EP
Glitter Days, Aura Zorba, Glitter Days Are Over
The Last King of Hell, Cult of Dom Keller, They Carried the Dead In A UFO
Extended Plays:
IDKU, Peace Killers, Magnetic Morning
Off The Map, Misertus, Off The Map
Truth Hurts, Tennis System, Autophobia
Public Service, Last Tourist, Public Service / Are We Just Algorithms? (Single)
Life, Holy Ship, Les Deux Regards
Proust (V3), The JD's, Proust EP
HNDI (Original Mix), Sasha, LUZoSCURA
That Time of Night (Edit), GLOK, That Time of Night EP
String and Bones (Ft. Alba Rose), Metrosideros, Var.
All In For Nothing, South, From here On In
Twirlpro, Dayflower, Popping Candy EP
So Be It, Eternity, Pam Risourie, So Be It, Eternity