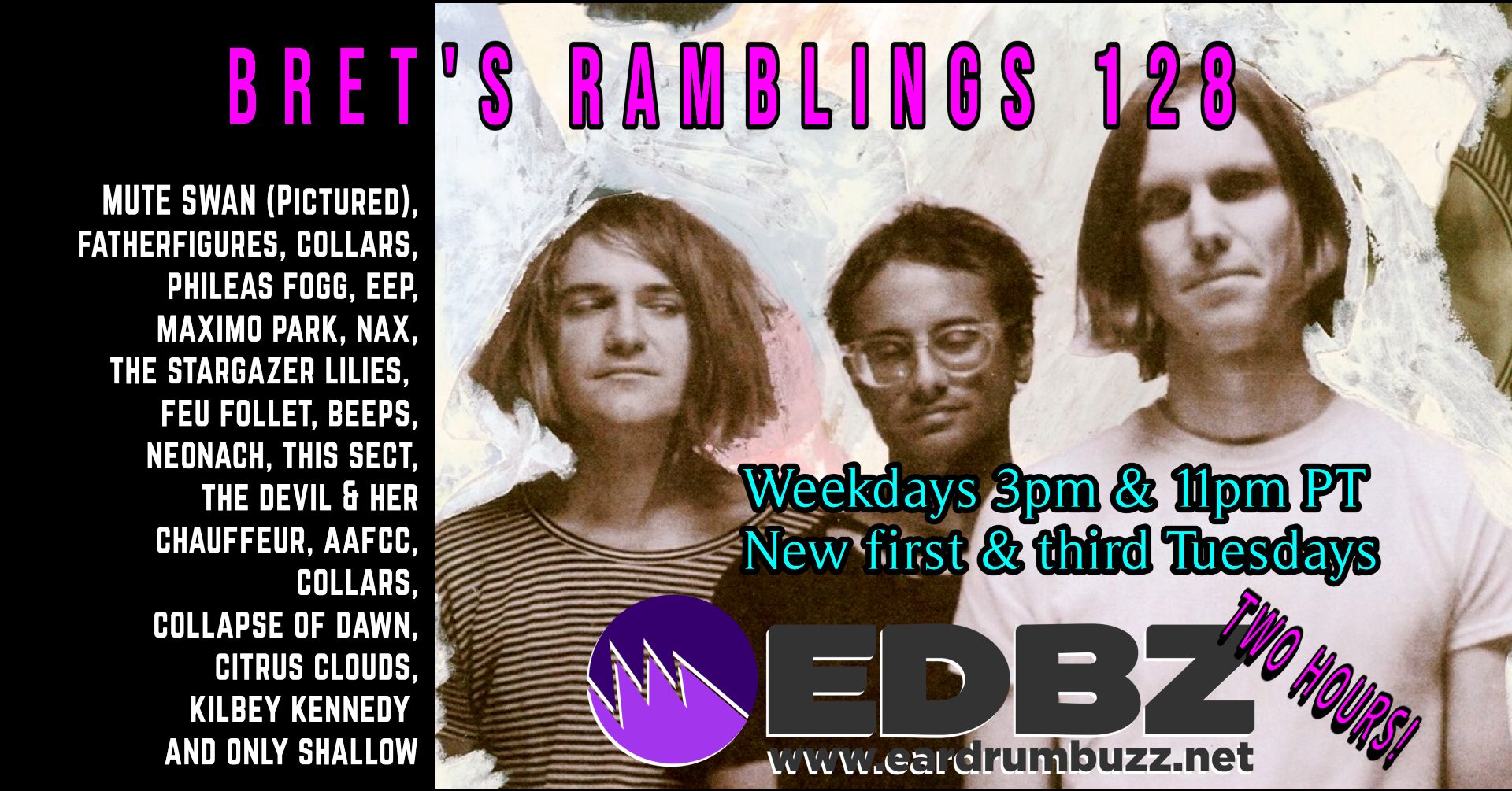 A special two hour Bret's Ramblings. Spring is in the air and the sun is out later. People are getting their shots and positivity is spreading.
Hear my show at 3pm and 11pm PT weekdays, new on the first and third Tuesdays at www.Eardrumbuzz.net
We start with some noisy Post-Punk, move into a little dreamyness, head into darker territory, then end with some Shoegaze, Indie Rock and Psych.
This time with:
(Song, Band, Album)
Landing, fatherfigures, Any Time Now... And High Time Too
Tag, Phileas Fogg, Kopf, Unten
I Don't Know What I'm Doing, Maximo Park, Nature Always Wins
Purple Sunshine, The Stargazer Lilies
The Bee's (Live at Ortlieb's), Cigarettes For Breakfast, Cigarettes for Breakfast EP 1st Anniversary Live at Ortlieb's
Dreaming of Distant Shores, After Daylight, The Paradigm Shift
So They Say, The Devil And Her Chauffeur
Desir (Ft. Luha), Hibou
Astro, Nax
The Bridge, Small Black, Cheap Dreams
Fox and Shaman (ft. Isabelle.B Baumann), Feu Follet, Beneath The Earth
The Silence, Only Shallow, The Silence single
Just One More, The Sculpture Club, Worth
Pass On, The Black Fever
Deplorables, This Sect, Everything We Know Into A Black Hole
The Sandman, Collapse of Dawn, ...Of Nightmares & Dreams
Volution, Neonach, Volution
Go Out In Light, Mute Swan, Only Ever
Collider, Citrus Clouds, Collider
Carefully Breathing, An Autumn for Crippled Children, As The Morning Dawns We Close Our Eyes
Density, Beeps, Beeps
Rendezvous, Kilbey Kennedy, Jupiter 13
Set Yr Eyes Aglow - Instrumental,  Pacific Latitudes, The Soundtrack Of Your Life -Ghosts In The Land Of Promise Instrumentals
Craigmoondance, The Emerald Isle, The Emerald Isle
When U R Gone, Ural Mountains, Blurry Pictures
Hey Lizzie, Lay It On Me,  Collars
Not My Home, EEP, Death of a Very Good Machine
EXTENDED PLAYS:
Harvest Moon (Neil Young), Dead Rituals, Cover Songs Vol. 2
Surge, Yellow6, For The First and Last
The Future Sound of London, Her Face Forms in Summertime, Dead Cities
Om Nama Shivaya (Rude Audio Fresh Remix), Dan Wainwright, Om Nama Shivaya EP
We Are M'berra, Khalab & M'berra Ensemble, M'berra
Billy Bellsium, µ-Ziq, Somerset Avenue Tracks (1992-1995)
The Princess and the Clock, Kero Kero Bonito, Civilisation II
Peg (Steely Dan), Super 8 & Nick Frater, Cruise Control: A Yacht Rock Cover Comp
Talk To Me Like The Sea (Everything But The Girl), Softer Still, I Remember That!: 12 sophistipop tunes quoted out of  context
I'm Not In Love (10CC), The Skating Party, Cruise Control: A Yacht Rock Cover Comp
Sail On Sailor (The Beach Boys), Seventh Seals, Cruise Control: A Yacht Rock Cover Comp